Association between plasma aldosterone level and disease severity was first reported by French researchers in July 2020. A month later, Italian researchers described an association between severe infection of the lungs and elevated aldosterone through its effect on Interleukin-6 (a pro-inflammatory cytokine involved in the storm caused by SARS-CoV2). They recommended serum aldosterone assessment in all patients with COVID-19, and the use of Tocilizumab to inhibit the effects of Interleukin-6. A similar approach was later described by British researchers who recommended the use of spironolactone and eplerenone to prevent aldosterone surge in severely ill patients. Hyperaldosteronism has since been confirmed to increase cardiac complications from COVID-19 in the elderly.
Hyponatremia has been associated with a twofold increase in likelihood of respiratory failure, and hypernatremia with a threefold increase in likelihood of death. These findings support earlier reports indicating that a significant number of patients hospitalized with severe forms of COVID-19 develop hypokalemia, and that disease severity correlates with the severity of hypokalemia. Pathophysiological state induced by RAAS imbalance has also been found to share features with clinical presentation of COVID-19. Hypokalemia and hypomagnesemia are now equally found in patients who experience long-term complications after COVID-19 infection.
A retrospective cohort study published in 2023 showed a significantly higher incidence of cardiovascular complications in patients with primary aldosteronism compared with patients with essential hypertension (12 vs 2%, P = .004). All patients with primary aldosteronism and cardiovascular complications had an abnormal chest radiograph, and 60% of them required ICU care.
Vaccination
Vaccines are very effective at preventing severe illness, hospitalization, and death from COVID-19. They are especially important for people with underlying conditions such as primary aldosteronism.
The mRNA vaccines developed by Pfizer-BioNtech and Moderna are the most commonly used vaccines. Because protection wanes over time, especially in the elderly and immunocompromised, booster shots are recommended to increase immune response and protection against serious infection.
The following public health measures remain very effective at preventing transmission of COVID-19:
Properly wearing a well-fitting mask in areas with high community transmission levels,
Practicing 6 feet distancing;
Avoiding poorly ventilated spaces and crowds,
Testing,
Washing hands often,
Cleaning and disinfecting high touch surfaces regularly, and
Taking precautions when traveling.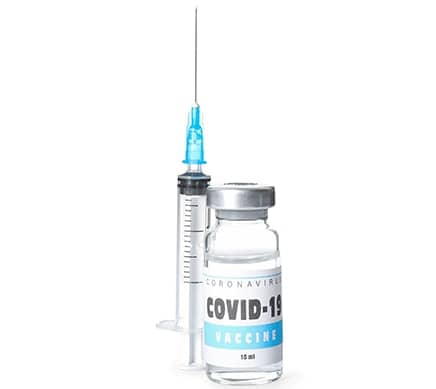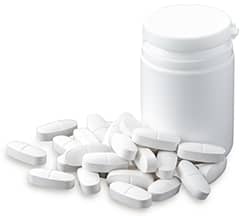 Spironolactone May Be Protective
Spironolactone counteracts some of the factors enabling SARS-CoV-2 to cause infection (i.e., abnormal ACE2 expression, angiotensin II and 1-7 imbalance, and androgen activity).
Early in the pandemic, studies conducted in Russia as well as Brazil and the United States indicated that the drug could be considered for prophylactic and early treatment of COVID-19 (i.e., to slow the virus entry into cells and decrease the severity of fibrosis in various organs, including the lungs).
Researchers in Poland and the United States have since confirmed the benefits of the drug, and emphasized the need for prospective clinical trials. In contrast, a South Korean study concluded that while spironolactone may reduce susceptibility to COVID-19, it does not prevent associated complications.
Role of Cortisol
Cortisol activation of the mineralocorticoid receptor in infected cells plays an important role in the most severe forms of COVID-19.
Dexamethasone, a corticosteroid, is therefore used to improve survival in hospitalized patients who require supplemental oxygen and mechanical ventilation.
Researchers in the UK have suggested that dexamethasone could offer a more effective MR blockade if combined with an MR antagonist such as spironolactone.
Villard, O.; Morquin, D.; Molinari, N.; Raingeard, I.; Nagot, N.; Cristol, J.-P.; Jung, B.; Roubille, C.; Foulongne, V.; Fesler, P.; Lamure, S.; Taourel, P.; Konate, A.; Maria, A.T.J.; Makinson, A.; Bertchansky, I.; Larcher, R.; Klouche, K.; Le Moing, V.; Renard, E.; Guilpain, P. The Plasmatic Aldosterone and C-Reactive Protein Levels, and the Severity of Covid-19: The Dyhor-19 Study. J. Clin. Med. 2020, 9, 2315., DOI: 10.3390/jcm9072315
Ploutarchos Tzoulis, Julian A Waung, Emmanouil Bagkeris, Ziad Hussein, Aiyappa Biddanda, John Cousins, Alice Dewsnip, Kanoyin Falayi, Will McCaughran, Chloe Mullins, Ammara Naeem, Muna Nwokolo, Helen Quah, Syed Bitat, Eithar Deyab, Swarupini Ponnampalam, Pierre-Marc Bouloux, Hugh Montgomery, Stephanie E Baldeweg, Dysnatremia is a Predictor for Morbidity and Mortality in Hospitalized Patients with COVID-19, The Journal of Clinical Endocrinology & Metabolism, Volume 106, Issue 6, June 2021, Pages 1637–1648. DOI: 10.1210/clinem/dgab107
Mareev VY, Orlova YA, Pavlikova EP, Matskeplishvili ST, Akopyan ZA, Plisyk AG, Seredenina EM, Asratyan DA, Potapenko AV, Malakhov PS, Samokhodskaya LM, Mershina EA, Sinitsyn VE, Bulanova MM, Fuks AA, Mareev YV, Begrambekova YL, Kamalov AA. [Combination therapy at an early stage of the novel coronavirus infection (COVID-19). Case series and design of the clinical trial "BromhexIne and Spironolactone for Coronаvirus Infection requiring hospitalization (BISCUIT)"]. Kardiologiia. 2020 Sep 7;60(8):4-15. Russian. DOI: 10.18087/cardio.2020.8.n1307.
Cadegiani FA, Goren A, Wambier CG. Spironolactone may provide protection from SARS-CoV-2: Targeting androgens, angiotensin converting enzyme 2 (ACE2), and renin-angiotensin-aldosterone system (RAAS). Med Hypotheses. 2020;143:110112. DOI: 10.1016/j.mehy.2020.110112.
Kotfis K, Lechowicz K, Drożdżal S, Niedźwiedzka-Rystwej P, Wojdacz TK, Grywalska E, Biernawska J, Wiśniewska M, Parczewski M. COVID-19—The Potential Beneficial Therapeutic Effects of Spironolactone during SARS-CoV-2 Infection. Pharmaceuticals. 2021; 14(1):71. DOI: 10.3390/ph14010071.
Wilcox, Christopher S. MD, PhD; Pitt, Bertram MD Is Spironolactone the Preferred Renin–Angiotensin–Aldosterone Inhibitor for Protection Against COVID-19?, Journal of Cardiovascular Pharmacology: March 2021 – Volume 77 – Issue 3 – p 323-331 DOI: 10.1097/FJC.0000000000000960.
Jeon D, Son M and Choi J (2021) Effect of Spironolactone on COVID-19 in Patients With Underlying Liver Cirrhosis: A Nationwide Case-Control Study in South Korea. Front. Med. 8:629176. DOI: 10.3389/fmed.2021.629176.
RECOVERY Collaborative Group, Horby P, Lim WS, Emberson JR, Mafham M, Bell JL, Linsell L, Staplin N, Brightling C, Ustianowski A, Elmahi E, Prudon B, Green C, Felton T, Chadwick D, Rege K, Fegan C, Chappell LC, Faust SN, Jaki T, Jeffery K, Montgomery A, Rowan K, Juszczak E, Baillie JK, Haynes R, Landray MJ. Dexamethasone in Hospitalized Patients with Covid-19. N Engl J Med. 2021 Feb 25;384(8):693-704. DOI: 10.1056/NEJMoa2021436. Epub 2020 Jul 17. PMID: 32678530; PMCID: PMC7383595.

Christopher Edwards, New Horizons: Does Mineralocorticoid Receptor Activation by Cortisol Cause ATP Release and COVID-19 Complications?, The Journal of Clinical Endocrinology & Metabolism, Volume 106, Issue 3, March 2021, Pages 622–635, DOI: 10.1210/clinem/dgaa874.