Successfully addressing issues with the magnitude of primary aldosteronism requires coordinated efforts across the entire healthcare system. Improving standards of care of a highly prevalent disease that disproportionately affects segments of a population requires public health interventions.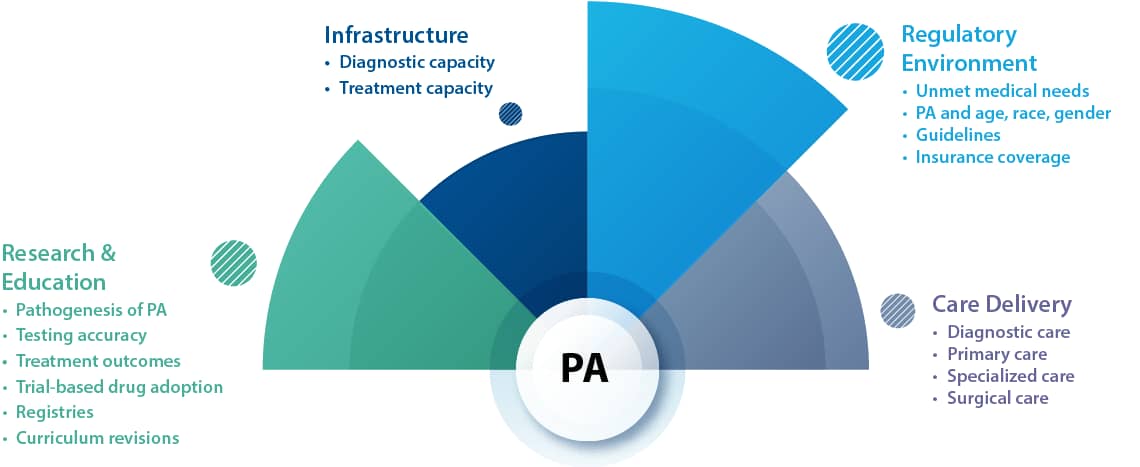 If 95% of those affected are neither diagnosed nor treated, interventions are also needed to ensure the provision and insurance coverage of health services:
Payment structures must allow for all diagnostic and treatment procedures for all patients,
Barriers to diagnosis and treatment must be identified, and inclusive solutions implemented at the primary and specialized care levels,
Accurate screening must be undertaken on a large scale, and
Capacity must be increased at all medical centers to address unmet medical needs.
To design and implement the needed interventions, the Foundation leverages scientific power and collaborative work of a multi-stakeholders' alliance.
Patient Discovery
Unmet medical needs and under-research are for a large part due to the inability to locate affected patients. For over a decade, artificial intelligence models have successfully identified undiagnosed and untreated populations. This elemental step is indispensable to make the needed care available through adequate policies, insurance coverage and staffing, and to enable actionable research and surveillance. The Foundation is collaborating with healthcare systems and leaders in information technology to expedite the design and implementation of AI-based models to find undiagnosed patients and individuals at high risk for primary aldosteronism.
Availability of Care
As indicated by the patient journey, under-diagnosis and under-treatment are also caused by unavailability of care. Even for the very few who are diagnosed, the road from screening to treatment is seldom travelled in less than a couple of years. For example, albeit curative for 35% of patients, surgical care is nearly nonexistent. This is mostly due to the unavailability of a much-needed testing procedure: adrenal venous sampling. In collaboration with the Foundation, two medical societies (SIRWEB and AAES) are carrying out an inventory of existing services with the aim of developing a regionally-balanced and properly accredited pathway to adequate care. 
Delivery of Care
Near absence of diagnosis and treatment is also caused by clinical and institutional inertia. Moreover, in the few instances where hyperaldosteronism is diagnosed outside of centers of excellence, delivery of care often lacks quality. To date, the causes of this inertia and safety issues remain unknown. Understanding barriers to delivery is essential to inform the co-creation with providers of effective interventions to improve standards of care. Together with the Foundation, experts in primary care, relevant specialties and implementation science are investigating the reasons for clinicians' failure to properly diagnose and treat primary aldosteronism.
Community of Practice
Diagnosing and treating at scale requires to build capacity through collaborative work. To help anchor this community of practice, the Foundation is developing a physician portal to support standardization of care with knowledge translation and sharing. The platform will offer clinicians the opportunity to gain insight into effective diagnosis and treatment, share successes and challenges, and learn from surveillance and clinical findings, as a group and in preferential ways such as direct access to ongoing clinical trials.
Advocacy
The Foundation engages with stakeholders on an ongoing basis to influence policies and the prioritization of primary aldosteronism as a major public health issue. Similarly, the organization participates in the revision of clinical practice guidelines, and promotes the update by medical schools of their curriculum to acknowledge high prevalence and train medical students to diagnose and treat the disease effectively.
Patient Support
The Foundation assists those who have, or suspect they have primary aldosteronism, in navigating the road to accurate diagnosis, obtaining adequate and effective treatment, staying abreast of relevant clinical advances, and optimizing their care. With its patient portal, the Foundation provides users worldwide with access to:
Charters
Because the organization of healthcare varies across countries, the Foundation was initially conceived as an umbrella organization to which national and local charters would be added over time. A prototype of such charters is under development at Monash University in Australia.